Maintaining Workplace Safety During COVID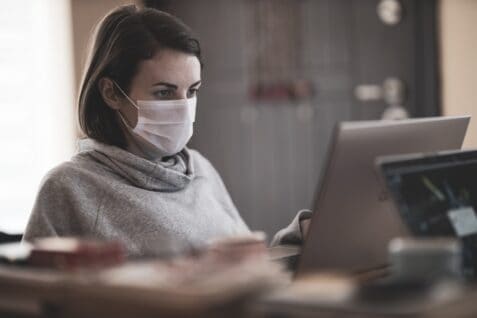 Is your office finally back and humming after a long hiatus? Are you wondering about new workplace safety tips now that COVID-19 is a possibility?
The usual workplace safety topics are no longer the only concerns you have now that a potentially serious virus is lurking just beyond your doors. Remembering to keep the office clutter-free and clearly mark slippery floors are still important. Yet there are important new boxes to check in order to support basic workplace safety.
Here's what you need to know.
1. Social Distancing
Social distance involves avoiding coming within six feet of others who don't live in your household. If an infected person coughs, sneezes, or laughs, droplets can get inhaled by others and germs can spread quickly.
It's possible to spread COVID-19 even if you don't know you're sick. It's important, therefore, to encourage social distancing whenever possible in your workplace.
If you are working in an office setting, use a ruler to measure six feet of distance between chairs. You may need to move some staff to alternative rooms or stagger their working hours in order to make this possible. In reception areas, make sure there are at least six feet of distance between each available chair.
Where lines form, you can mark distances of six feet with floor tape, so customers know where to stand. Place signs around your workspace so employees remember to socially distance as much as possible.
2. Masks
As effective as social distancing is it may not always be possible. This is why masks are now standard protocol in places of business.
Masks can slow the spread of droplets in situations where distancing is difficult, such as paying for your order at the cash register. It's important, however, that nonessential workers don't use N95 respirators, as these are still critical for healthcare workers.
Masks can help to reduce employee anxiety about catching COVID. While states have different rules when it comes to mask-wearing, employers generally recommend that workers wear them in close-contact situations. In other work environments, employees must keep them on unless they are outside and socially distanced.
3. Sickness Policies
As you might expect, employees diagnosed with COVID-19 should stay home until they are cleared by a medical professional to go back to work.
It's also required, however, that employees who display any symptoms of COVID-19 stay home and not return to work until they have met the right criteria. Symptoms include a cough, fever, and shortness of breath. Your employees will need a negative COVID-19 test before they can return to work.
4. Cleanliness
Keeping your office clean during the COVID-19 crisis will involve more input from your entire staff.
It's important to regularly clean and disinfect any frequently touched surfaces. These could include doorknobs, tables, or light switches.
Leave wipes for employees to leave when they use the bathroom. If seats or desks are being used by more than one person, make sure disinfectant products are used in between customers or workers.
5. Encourage Remote Work
One of the best ways to lower the number of people in close proximity to one another in your workspace is to encourage employees to work from home.
Some employers give small stipends to their remote employees that they can spend on designing a new home office. A comfortable workplace in a secluded part of a home can function very well and may even lead to greater productivity from your workers.
It's important to schedule regular check-ins in order to hold your team accountable and motivate them to be their best. Encourage your employees to dress for work even if they're home in order to maintain a professional attitude.
Give your employees a little grace as they become accustomed to using teleconferencing as their way to stay connected. Many will need a little adjustment time before new technology becomes more automatic.
6. Take Temperatures
Over 83% of those infected with COVID-19 have a fever. That means that taking your employee's temperatures as they come into work can help everyone breathe a little easier.
You can designate a staff member to take employee temperatures as they come to work each morning to have even more assurance that those in your workplace are fever-free.
7. Encourage Good Hand Hygiene
Some people frequently touch their eyes, mouth, and noses without noticing it. Germs from unwashed hands can get transferred to objects such as light switches, handrails, and tabletops. These can then get transferred to another person's hands and infect them.
Good handwashing is therefore an effective way to stop the spread of respiratory infections and other germs. In order to do it right, your employees should turn off the tap and lather their hands with soap. They should make sure to scrub for at least twenty seconds, being certain to scrub between fingers and under nails.
Signs in the bathroom promoting good handwashing techniques can remind employees of their responsibilities.
Hand-sanitizing stations around your workplace can also remind employees to disinfect before they have contact with high-touch areas. Hand sanitizers are effective at lowering the number of microbes on hands, although all types of germs may not be eliminated. Conveniently located pumps can help keep everyone a little healthier.
Workplace Safety Tips for Covid-19
Covid-19 has changed the way we live and work. You can, however, still have a very productive season if you're careful. Make sure you're following workplace safety tips in order to keep your employees safe and healthy.