About KHA
Kelleher, Helmrich and Associates, Inc. (KHA) specializes in providing Safety Data Sheet (SDS) Management. We have been involved exclusively with the SDS market since 1985 and have hundreds of satisfied customers to our credit. We pride ourselves in keeping up with technological advances to provide the most complete and easy to use SDS management platform available today.

KHA is one of the original providers of SDS management. We pioneered SDS management software, being one of the first to offer scanning, HAZMAT inventory integration, fax on demand and Internet/Intranet distribution.

Our sales directive is to analyze a customer's needs and provide a solution that best suits the customer. KHA provides customization and integration of our products with other systems, to suit our customer's needs. We focus on providing quality products and services for all aspects of SDS administration, from authoring, distribution, vendor SDS management and archiving. Our customer support staff provides immediate personalized customer service, in a time when many companies implement a multi-level support or a call back queuing system.

KHA's experience culminates over 35 years of service to a variety of manufacturers, distributors, municipalities, health care organizations and other industries. KHA's range of services includes: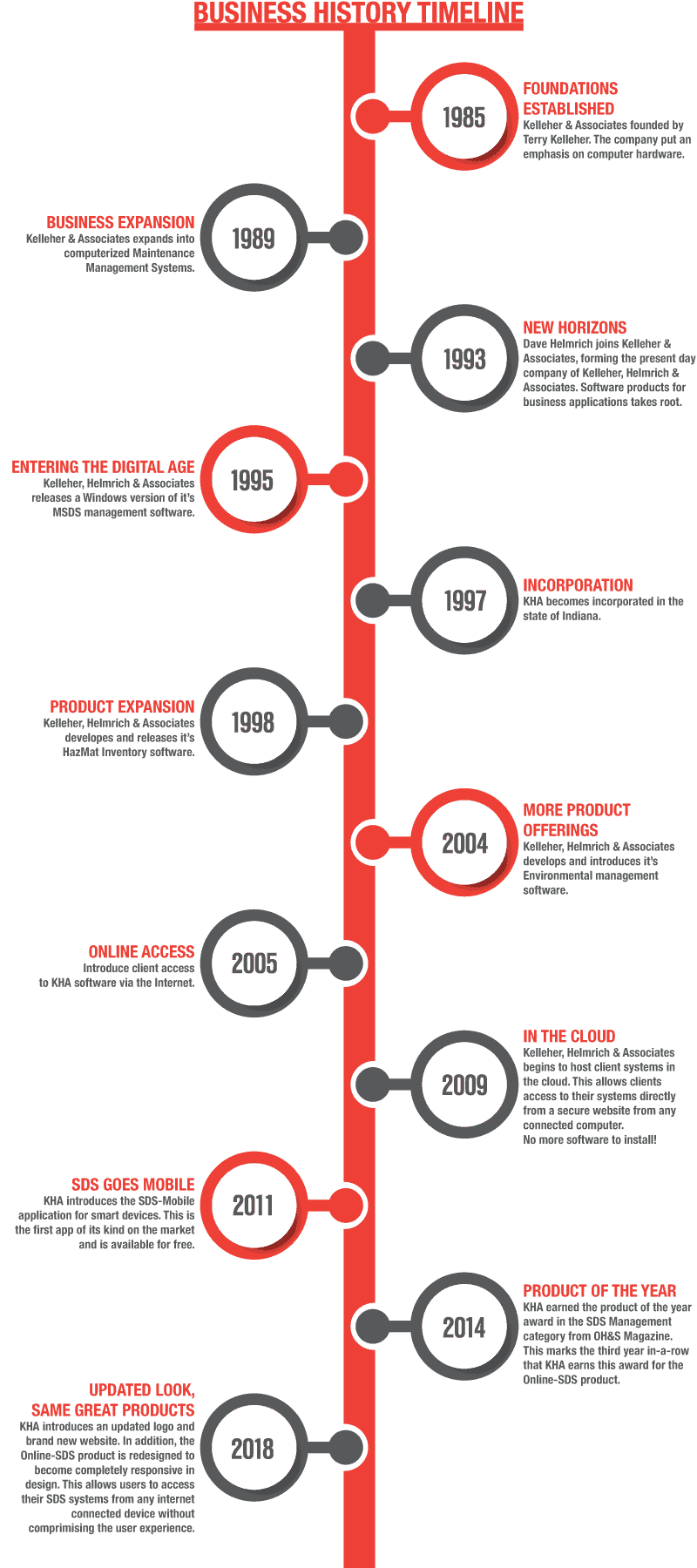 The Early Years
Kelleher and Associates, the predecessor to KHA, was originally founded in 1985 by Terry Kelleher with basic emphasis on computer hardware and peripheral sales of new and used equipment. Mr. Kelleher was involved in the development of a computerized training system that was used in major airlines, manufacturing companies, universities and government. This was the first application of computerized audio used for training purposes.
In 1989 Kelleher and Associates expanded into the marketing of Computerized Maintenance Management Systems.
In 1991, Dave Helmrich joined Kelleher and Associates, forming Kelleher, Helmrich and Associates. Dave Helmrich brought with him the knowledge and experience of software development, project management and business consulting.
Online-SDS™ is Born
Kelleher, Helmrich and Associates developed Online-SDS™, a software package developed for safety departments' management of their safety data sheets. This product has been used in chemical, manufacturing, health care, universities and municipalities. Development grew to include imaging, regulatory reporting, ingredient specific inventory, chemical tracking, automated distribution of outgoing SDS and fax on demand. Kelleher, Helmrich and Associates also provides data entry and scanning services for many of their customers during the setup phase and an ongoing service for SDS management and fax on demand.
Shift to Application Service Delivery
As the Internet grew in popularity, during the late nineties, KHA continued to update the Online-SDS™ brand software. In 2004 KHA began offering a hosted solution to customers where instead of having to install the SDS management software on the servers of the customer the customer could instead access it over the Internet.
SDS Solution of the Future
In 2009, Online-SDS™ was taken to the cloud allowing clients to access their systems directly from a secure website from any connected computer. This was a drastic improvement to the user experience and was received favorably by our clients. KHA continues to evolve its Online-SDS™ product to address the changing needs of our clients to meet their safety goals.
SDS Goes Mobile
In 2011, KHA expanded it's SDS Management platform to include SDS-Mobile. The application allows KHA clients to take their entire chemical inventory of SDS with them wherever they go. The application is first released on iOS for Apple devices and soon after that, a version is released for Android devices. SDS-Mobile is an integral part of KHA's business model to this day.
Recognition and Awards
In 2014, KHA earned the 'Product of the Year' award in the SDS Management category from OH&S Magazine. This marks the third consecutive year that KHA earns this award for the Online-SDS™ product.