Safety Industry: Challenges and Solutions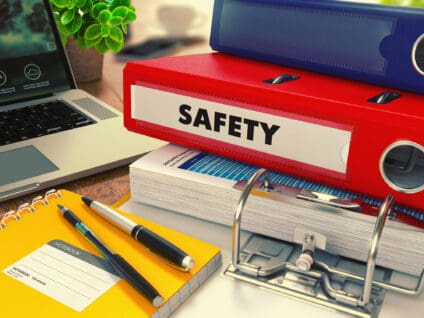 Protecting employees' health and safety has never been more important. In the wake of the Covid-19 pandemic, the safety industry is now faced with new and unique challenges.
Knowing what to look for means diminishing risk, increasing workplace safety, and staying compliant. In this article, we'll take a closer look at the safety industry challenges of today and practical solutions.
Lack of Employee Engagement
Complacency is a leading cause of workplace accidents and injuries. Carelessness, lack of motivation, and fatigue can all cause accidents on the job.
With so much uncertainty and upheaval in the economy in recent years, many workers lack job security. Workers that aren't invested in their jobs are much more complacent. When employees work on "auto-pilot" they're less focused on the task at hand and more likely to take unnecessary risks.
Nearly 54% of companies reported concern over a lack of employee engagement. One way to counteract this lackadaisical and dangerous attitude is by listening to and investing in your employees.
Create a forum or discussion board where workers can anonymously voice their complaints and concerns. Bring together employees from different departments to discuss safety concerns and improvements.
By showing employees you care and understand their concerns, you'll increase engagement and reduce risk. 
Access to Information
While most companies have made the switch to digital record keeping, manual data entry is still used in some industries. Not only is manual entry inefficient and time-consuming but it can lead to misinformation and dangerous errors.
Technicians and contractors need to stay in touch with the main headquarters while working in the field. Using pen and paper restricts fast, efficient access to important information. This is not only a safety concern but it can cause major delays on the job.
These are just a few reasons companies are utilizing mobile solutions like online SDS. With unlimited users, offline backup, and access from multiple locations, sharing and accessing information has never been easier or safer.
A Need for Increased Industrial Safety Training
Another safety concern for 46% of large-scale companies is proper employee training. Employers have noticed an uptick in workers taking shortcuts on the job or blatantly ignoring rules and instructions.
One way to address this is with increased training and industrial safety programs. Another is to create a positive safety culture on the job. Encourage employees to notice and report unsafe behavior or practices.
Remind employees that by pointing out safety concerns, they're protecting their coworkers, themselves, and the company.
Your supervisors and managers should also practice what they preach. This means following safety best practices and offering constructive criticism. 
Navigating the Ever-Changing Safety Industry
It's your job to keep your employees safe and healthy. By providing training, leading by example, and hearing their concerns, you can run a safe and productive company.
The safety industry is slowly moving into the digital world and you don't want to be left behind. KHA Solutions offers a variety of online safety solutions.
Contact us today to learn more and find out which of our products best fits your needs.