OSHA Silica Regulations Results in 116 Violations in first 6 months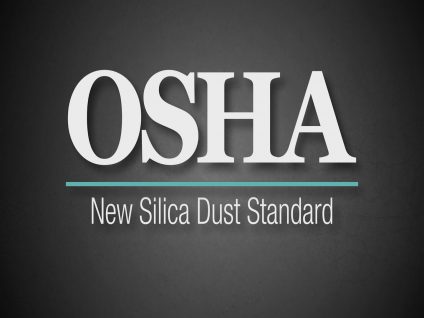 OSHA's newer and more stringent regulations regarding employee's exposure to respirable crystalline silica officially went into effect on September 23, 2017. The new silica regulations reduced the permissible exposure limit of the substance, which is found mostly in products containing sand (like concrete, mortar, and brick), from 250 micrograms per cubic meter of air down to 50 micrograms per cubic meter of air averaged over an 8 hour shift.
Even though the rule went into effect in September, OSHA didn't officially start enforcing it until 30 days later in October, after issuing a grace period for "good faith efforts."
Since the October enforcement date, Bloomberg Environment has discovered that the agency has issued 116 alleged silica violations. The most frequent of those violations, 35 of them, were issued for employers failing to measure silica exposure levels. 31 violations were issued for incorrectly using OSHA's provided Table 1, which describes OSHA's required methods for handling 18 of the most common equipment or tasks associated with the creation of silica dust.
80% of the violations were classified as serious violations, according to the research. None resulted in the maximum penalty allowed, which currently sits at $12,934 in 2018, but the highest penalty, so far, was issued for $9,239. That fine was later reduced to $6,929 after a settlement.
Bloomberg mentions that they believe the silica dust violations will continue to rise, as many of OSHA's violations can take up to 6 months to be completed.
It's extremely important to note, as the Bloomberg article does, that there is still a common misconception that using PPE is the best way to protect from silica dust. While still important for protection, OSHA requires that engineering controls, such as the use of integrated water delivery systems or dust collection using a vacuum, be the first method of compliance.