Benefits of Health and Safety Apps on Mobile Devices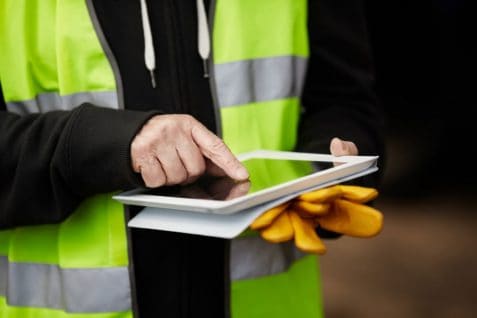 The Benefits of Health and Safety apps cannot be denied. The ways in which companies are managing health and safety operations has been completely transformed by technology, specifically mobile technology.
An Environmental Health & Safety professional now has the ability to accomplish more in a workday while spending less time on tasks without cutting corners. This all adds up to making a positive impact on your company's safety program. Health & Safety apps are one of the best things to ever happen to the industry.
How Can a Health and Safety App Help You?
A health and safety app can be one of the most powerful tools in your arsenal. What the app does and how you use it all depends on the context of the job you're performing. There are health and safety apps on the market that focus on specific topics such as avoiding heat illness on the job or ladder safety. While others are a more comprehensive solution that usually work in coordination with a paid subscription to a web-based service. An app can help you streamline daily management activities, assist with training, record workplace observations, conduct audits and inspections and offer collaboration between team members – all from the palm of your hand.
The Benefits of Health and Safety Apps for EHS Departments
Everyone who uses apps have likely downloaded a few that never get used, but a health and safety app for your company won't be one of them. Take a look at how a health and safety app can help you work better every day.
Mobility
A successful safety manager is one who is active and present in work areas to keep employees safe on the job. Instead of sitting at a desk, they find and eliminate potential hazards, conduct audits and assess risks.
With the help of health and safety apps, a safety professional has instant access to everything they need to work efficiently. Their mobility allows them to work without restrictions and streamlines their daily activities. Tasks that once took tremendous amounts of time can now be performed in minutes. From the convenience of a smart device you can locate documents and information, record data, create reports, gather insights and take notes; with some apps, you can also keep working even when you're offline.
Improving the Company's Safety Culture
One of the biggest benefits of a mobile app is the impact on your company culture. Creating a safe place to work is a top priority for companies, and part of this initiative relies on the strength of your safety culture. However, when it comes to workplace safety, employee engagement isn't always guaranteed.
A health and safety app is a great way to use technology to connect with your employees via the devices they use every day. In fact, about 77% of Americans are smartphone users. Implementing a health and safety app puts you where your employees already are and gives them an easy, convenient way to stay engaged.