5 Common Mistakes to Avoid With OSHA Compliance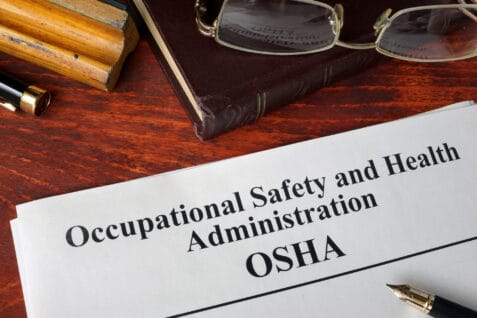 The Occupational Safety and Health Administration (OSHA) has strict safety regulations that companies must adhere to. These rules aim to prevent and reduce workplace accidents, such as falls and hazardous substance releases. For example, chemical manufacturers and importers are required to train their employees on the hazards of chemical occupational exposure.
Failure to comply with these rules can result in hefty fines. In the worst-case scenario, you may need to go out of business. As a manager or entrepreneur, it's your responsibility to meet OSHA compliance requirements and stay up-to-date with the latest changes.
Unfortunately, that's easier said than done. No matter your experience, you can make mistakes that put your business at risk. Let's see a few examples!
1. Not Having OSHA 300 Logs
Employers who are subject to OSHA requirements and have 10 or more employees must file Form 300. This document is meant to record all reportable injuries and health conditions affecting workers.
Companies must keep detailed records of any events that resulted in death, infection, poisoning, and more. They are also required to describe the circumstances in which these events occurred.
The documentation must be readily available during OSHA inspections.
2. Not Keeping Training Records
Companies must also create and maintain OSHA training records. How long you must keep these records depends on the type of training.
For example, bloodborne pathogen training records must be retained for three years from the date on which your employees received training. Research these aspects beforehand to make sure your business meets OSHA compliance requirements.
3. Rushing Through the Training Process
OSHA training requirements are more than a formality. Their role is to increase workplace safety and mitigate risks.
As an employer, you may feel pressured to get your staff up to speed as quickly as possible. But inadequate training can increase the risk of accidents in the workplace and put your business at risk.
For this reason, OSHA recommends choosing a comprehensive training program that includes interactive and hands-on components, not just theoretical instruction.
4. Recording Every Incident
While it's important to keep detailed records of workplace accidents and hazards, you shouldn't record every single event "just to be sure."
Not all incidents that occur in the workplace meet the recording criteria. Overrecording can increase your incidence rates, which in turn may affect your ability to take on new projects. Your company's reputation may suffer, too.
Your best bet is to contact an attorney or other experts and discuss your options. Reach out to the local OSHA office when in doubt.
5. Failing to Invest in Safety Systems
Workplace policies alone are not enough to keep your employees safe. You must also invest in health and safety systems and provide your staff with the right tools for the job.
Health and safety management systems will not reduce workplace accidents but also boost productivity and improve your company's bottom line. Plus, you will achieve legal compliance and reduce turnover rates.
Take the Steps Needed to Meet OSHA Compliance Standards
Most companies with employees are legally required to meet OSHA compliance standards. Avoid the mistakes listed above, and you'll find it easier to grow your business and increase workplace safety.
Remember that you're not alone in this journey. Our team provides the resources you need to implement the latest safety regulations. We offer the most complete Safety Data Sheet Management platform available today, plus many other services and software packages.
Contact us to find out more and see how we can help!