Your OSHA Compliance Guide to Transporting Hazardous Materials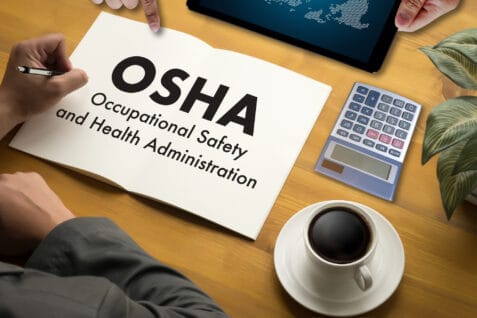 Operating a business where transporting hazardous materials is necessary requires federal regulation compliance. The U.S. Department of Transportation Pipeline and Hazardous Materials Safety Administration establishes transportation rules. Different regulations apply to air, water, rail, and highway transportation methods.
The OSHA Hazard Communication Standard 29 CFR 1910.1200 requires hazardous chemicals to contain classification information. This information must be available to employers and employees. It also requires employee training, labeling, forms of warning, and safety data sheets.
OSHA labeling regulations are part of the requirements for transporting chemicals and waste. It is important to understand and follow all regulations to avoid violation fines.
Provide Training
OSHA requires employees receive information and training about the chemicals they work with. The information must include how to protect themselves in the event of a spill or leak. OSHA requires safety data sheets to be accessible to all employees in work areas on every shift.
Safety Data Sheet International Standards
OSHA implemented new Global Harmonization System (GHS) standards. This includes modifying the Hazard Communication Standard, now the Standard Data System (SDA). These changes are in compliance with international standards.
The SDA contains 16 sections on pertinent hazard information. Besides information about each chemical, it covers spills, fires, and contamination. This includes giving first aid and steps to take if someone inhales or swallows the chemical.
Emergency response information must be available. This must be on a separate document from shipping papers per 49 § 172.602 CFR. The information is the same as what is on the SDS:
Proper shipping name
UN number
Hazards to health
How to react to fire, leak, or spill
First-aid measures
By sending your SDS with each hazmat shipment you are legally compliant.
SDS Library
The OSHA requirements under GHS make it necessary to maintain an SDS library. The KHA online SDS allows you to locate all information using 35 different fields. You can also enter up to seven unique identifiers.
With a load-n-go backup, you are able to store all your SDS for emergency access offline. You can store them on a flash drive, laptop, etc.
Unlimited users allow all employees access. You can use both Apple and Android-connected devices.
Schedule a demo of this on-demand SDS system today. This is the best way to ensure your company is OSHA hazmat shipping compliant.
Labels on Containers
You must make sure all employees shipping hazardous chemicals properly label all containers. This includes using a proper placard to identify the material. Everyone transporting hazardous materials is familiar with the diamond-shaped cards and symbols.
Placard information indicates the type of container necessary for transportation. It also shows whether it needs to be inside a car or truck and if bulk shipping is allowable.
The placard color, symbol, and four-digit number indicate the type of hazardous material. The signs have universal recognition across borders to lower the risk of exposure. They indicate to every person when route planning how to handle the container.
Handling Unidentified and Unlabeled Substances
If you find a container without proper labeling do not transport or dispose of it. Contact the Environmental Protection Agency. They will analyze and identify the substance.
It is illegal to transport items that are not properly labeled. If you do not follow the label and transportation requirements you may receive a Resource Conservation and Recovery Act violation.
Take the Headache Out of Transporting Hazardous Materials
Trying to stay OSHA compliant when transporting hazardous materials can be stressful. To make the process easy stay compliant with using the KHA online SDS. This is an industry-leading safety data sheet management system.
Contact us today using our online form or call 800-274-4995 with any questions. We offer transparent pricing with no hidden fees or add-ons. Call us today!