What Is HazCom Training and Why Is It Important?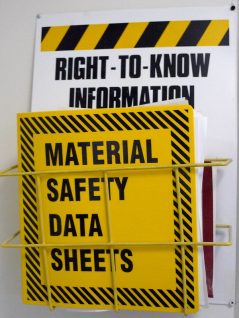 Injuries from exposure to harmful substances or environments were up in 2019 compared to 2018. One way to reduce these types of injuries is HazCom training.
Find out what HazCom training is and why it's so important.
What Is HazCom Training?
HazCom training is part of your hazard communication program. The US Occupational Safety and Health Administration (OSHA) requires employers with hazardous chemicals in their workplaces to implement a hazard communication program.
OSHA's 1910.1200 Hazard Communication Standard mandates that employers inform workers about chemical hazards they may encounter while working. HazCom is short for hazard communication.
HazCom training teaches your employees what chemicals they may come into contact with. Workers learn how to protect themselves and how to reduce risks when handling dangerous substances.
What Should HazCom Training Cover?
OSHA doesn't mandate a specific format for HazCom training. The standards only require that employers present the training in a manner and language that workers will understand.
HazCom training should cover four main topics.
1. Hazards of Chemicals and Chemical Exposure
Chemicals can have physical and/or health hazards. A flammable liquid that produces vapors that will burn is one example of a physical hazard. A compressed gas that will release energy violently if its container ruptures is another example.
Health hazards include effects that range from reversible to fatal. Some chemical health hazards are:
Asphyxiates
Carcinogen
Corrosive
Toxic
Highly toxic
It's important for workers to understand what can happen if someone handles chemicals incorrectly. They also need to understand the serious consequences of chemical exposure.
2. How to Detect the Presence of Hazardous Substances
Employees need to know how to detect if a hazardous substance is accidentally spilled or released. This includes information about the visual appearance or odor of a chemical when it spills. Learning how to read any relevant monitoring devices is another important part of training.
3. How Employees Can Protect Themselves from Chemical Exposure
Workers need to know about the protective measures that are available to them. They also need to know how to use or implement those measures.
Personal protective equipment is one example of a protective measure. Safe working practices and emergency response are other measures the training needs to cover.
4. The Workplace Hazard Communication Program
Finally, employees need to fully understand the hazard communication program for their workplace. They should understand chemical labels and safety data sheets. Workers also need to know how to get and use hazard information.
Labels for hazardous chemicals include several types of information, such as:
Product identifier
Signal word
Hazard and precautionary statements
Pictogram
Contact information of the manufacturer or importer
HazCom training needs to explain how a worker can interpret this information.
A safety data sheet (SDS) provides comprehensive information about a chemical substance. The SDS describes the hazards of working with a chemical and the necessary safety precautions.
Employees need to know how to access the SDSs. Many employers keep their SDS sheets online. A safety data sheet management program ensures that all workers have access to accurate SDSs whenever and wherever they need them.
How Does HazCom Training Fit Into a Hazard Communication Program?
OSHA requires five main elements in a hazard communication program:
Written program
Safety data sheets (SDSs)
Labeling
Training
Inventory of hazardous chemicals
Safety data sheets give you a detailed description of each hazardous material. Labels should identify the material and warn of potential hazards.
The material inventory lists the hazardous materials and other physical hazards in the work area. Your written program ties all the other elements together. It documents your procedures regarding hazardous chemicals.
HazCom training is a critical piece of your hazard communication program. It's what ensures that your employees know what hazards they may be exposed to.
More importantly, it's how your employees learn to handle hazardous materials as safely as possible. They'll know how to protect themselves while also protecting your business.
How Often Is HazCom Training Necessary?
When an employee starts working in an environment with hazardous chemicals, they need HazCom training. Employees need additional training sessions if they'll be coming into contact with new chemicals.
Otherwise, OSHA doesn't require HazCom training on a recurring basis. You are not required to have a yearly training, for example.
Product and safety information must always be available, however. Labels, safety data sheets, and signage are ways to be sure your employees have the information they need. Whether you use online SDS sheets or hardcopy, they must be accessible to workers at all times.
Why Is HazCom Training Important?
OSHA requires HazCom training in order to reduce workplace accidents. A safer workplace benefits your employees as well as your business.
You avoid downtime and worker absences that result from injuries and accidents. This increases productivity. In addition, you improve your reputation among your clients and in the community when you have a strong safety record.
Failure to comply with OSHA regulations can result in significant fines. OSHA considers noncompliance with HazCom standards to be a willful violation. For 2021, the maximum penalty increased to $136,532.
Proper HazCom training as part of your hazard communication program helps you avoid costly fines and accidents, while improving productivity and employee health.
How to Conduct HazCom Training
Now that you know everything that goes into HazCom training, you may wonder how you'll be able to do it yourself.
Contact us today for more information. Start experiencing the difference a safer workplace makes.