Use SMS in Your Emergency Response Plan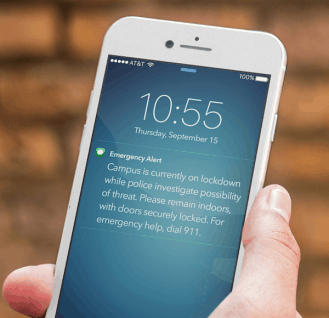 Optimizing your communication channels to effectively notify your employees during a time of crisis is crucial. Using SMS in your emergency response plan will provide immediate alerts that can save lives.
A Crisis Can Occur at Any Time
Most people carry a mobile device at all times, making text messaging (SMS) an easy way to communicate an emergency with everyone in a crisis situation. The majority of your employees will read the text message within a few minutes. Those employees will be able to spread the word immediately through your facility to ensure everyone is notified of the emergency. Attempting to use email or phone calls will not ensure you reach everyone in time. Text message your employees in the event of an emergency and you will reach them fast.
Confirm the Safety of Your Employees Immediately
Notifying your employees of an emergency situation is the first step to keeping them safe. Using SMS allows you to open a two-way channel of communication so your employees can confirm everyone's safety. You can also reach out to specific people if you don't get a response. You will be able to better manage the situation and reduce the danger level to your employees when using SMS as a communication channel.
Stay Informed During an Emergency
Information is power, the more you gather the better you can respond to an emergency situation. For example, if there is a fire in one area of your building, a blast text message to your employees will warn everyone of the danger. Employees closer to the fire may be able to report back to you with information of exactly what is going on. This will allow you to better manage the situation when you have constant communication.
Provide Updates Through Text Messaging
In emergency situations, phone lines can get overwhelmed with concerned family members calling to check on their loved ones. Updates via SMS can keep everyone up-to-date during a crisis and also allow you to update everyone as things change, easing the stress of everyone involved. Remember that your response during an emergency can make or break your company's reputation.
Send Out Instant Safety Tips
An emergency can happen at any time which emphasizes the importance of preparedness. Having SMS in place will allow you to have that constant communication channel with your employees. You can be a calm presence during an emergency situation to keep everyone away from danger and up-to-date with the details of an emergency. When you use SMS in your emergency response plan, you deliver fast and efficient communications that your employees can depend on.