Telecommuting Work during a Pandemic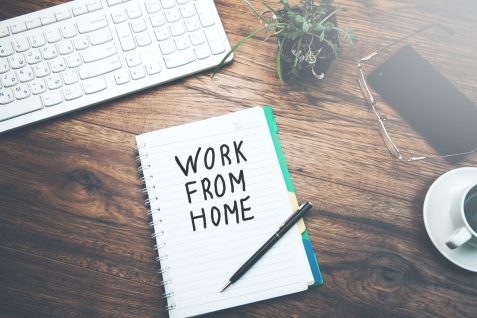 Many government officials, including those at the Centers for Disease Control and Prevention (CDC), have called on employers to allow their employees to work from home whenever possible to reduce the spread of the Coronavirus.
Telework can be quite productive if employers adhere to best practice. In some cases, employers have found themselves with little choice when the government has ordered quarantines and imposed curfews, forcing businesses to close offices.
In addition to not being exposed to others in the workplace, telework takes the danger out of traveling back and forth to work. The first step for any company considering expanding or implementing teleworking among its employee ranks is to take enough time to review and update its existing policies or craft temporary new ones.
Here is the advice offered to employers by the CDC:
Explore whether the company can establish policies and practices, such as flexible worksites (e.g., teleworking) and flexible work hours (e.g., staggered shifts), to increase the physical distance among employees and between employees and others.
For employees who are able to telework, employers should encourage them to telework instead of coming into the workplace until symptoms are completely resolved.
Ensure that the company has the information technology and infrastructure needed to support multiple employees who may be able to work from home.
How to Manage Teleworking
Any reasonable and effective teleworking policy that you develop should be guided by the following considerations:
Determine eligibility and create procedures. If you are looking to implement a temporary telework policy, clearly define which employees are eligible for teleworking, the duration of expected telework accommodations (with a provision that the employer is authorized to change this as the situation develops), and the responsibilities borne by both the employee and employer have under the policy.
Also describe how hours will be recorded, what technology or equipment the employer will provide to ensure compliance with the policy, and what reasonable work expenses are reimbursable for telework needs. The policy should designate a point of contact for any questions regarding telework requirements.
Employers with union employees should remain mindful of their obligations under collective bargaining agreements.
Manage communication expectations. Some employers might not be accustomed to interacting with employees strictly through the use remote platforms. It is important that employer telework policies clarify expectations regarding the frequency and method of communication from employees. This could include specific expectations regarding required daily or weekly phone calls with the appropriate supervisors.
Establish security and oversight. If remote working is not already a standard practice at your organization, make sure to adopt policies governing remote employee access dealing with issues such as network security, protection of corporate confidential information and timekeeping. This should include dealing with practical concerns, such as prohibiting employees from working out of coffee shops.
Policies Make It Work
Remind employees about existing policies: A written policy should emphasize that employees must continue to abide by all pre-existing workplace policies while teleworking. Stress that failure to follow existing policies while teleworking may result in disciplinary action, including possible termination of the telecommuting arrangement.
Make sure that you don't discriminate. Under the law, the only legal mandate for employers to provide telework as an accommodation relates to disabilities. Flexible workplace policies should be administered in a non-discriminatory way. An employer should never impose or offer telework based on race, sex, age or any other class that is protected under law.
Make every effort to ensure that the policy is consistently applied to all eligible employees. If teleworking arrangements are granted to some employees but not to others, you need to be prepared to explain the legitimate, nondiscriminatory grounds for the disparity.
Be aware of the impact on non-exempt workers. Telework programs present particular challenges when it comes to non-exempt workers who are eligible for overtime under the Fair Labor Standards Act (FLSA) and similar state laws, warn Beattie and Carter and other employment lawyers.
Although employers are not required to pay non-exempt workers when a worksite is closed and teleworking is not possible, you can choose to continue paying non-exempt employees for a set period of time, for a set amount or indefinitely. Clearly communicate to non-exempt employees whether they are permitted to telework and what your expectations are when it comes to timekeeping and schedules.
If non-exempt employees are not allowed to telework, explain how the company is addressing the loss of pay. For example, employees could be allowed to use paid time off or an employer could provide a stipend or pay continuation to them.
Subject to collective bargaining agreements, another option is assigning special projects or other assignments that can be completed remotely. Keep in mind that any telework-related costs incurred by a non-exempt employee (for things such as Internet access and equipment) cannot reduce their earnings below minimum wage and any required overtime compensation.
As the situation with COVID-19 continues to unfold, employers should explore the viability of telework where possible, to support containment efforts. In addition, employers should review, revise, or create applicable policies that ensure employees are complying with the business's needs for the duration of the COVID-19 pandemic.