Safety Talks – Hazard Communication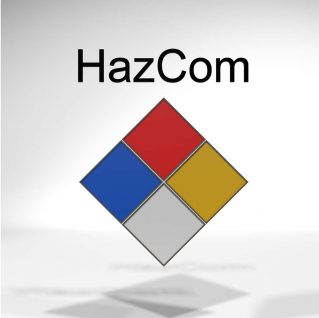 Hazard Communication (HAZCOM) and The Employee Right to Know Act were developed and designed to ensure employers provide their employees with vital safety information for chemicals used in their workplace
Hazard Communication initiatives help to reduce chemical-related occupational illnesses and injuries by providing specific information that identifies and evaluates hazardous chemicals in the workplace. Tools such as Safety Data Sheets (SDS) and GHS container labels help employers identify and communicate these hazards in a standardized form.
A Safety Data Sheet is provided by the manufacturer which contains information regarding all of the associated hazards with a particular chemical. In addition, it provides guidelines on how to protect yourself against these hazards and also provides emergency contact information/procedures in the event of emergency. You can obtain an SDS from the manufacturer or use a service such as Online-SDS. Training your staff to be able to read and understand the information within an SDS is crucial.
Information found on an SDS includes, but is not limited to:
Manufacturer's Information

Chemical Composition

First Aid Measures

Fire Fighting Measures

Accidental Release Measures

Handling and Storage requirements

Exposure Control / Personal Protection

Physical and Chemical Properties

Stability and Reactivity

Toxicological, Ecological Information

Disposal and Transportation Information
Check out our Ultimate Guide to Safety Data Sheets for a complete breakdown of all 16 Sections of an SDS.
Proper labels are required for every container within your facility that houses a hazardous chemical. The importance of these labels is amplified when you're using generic containers, such as spray bottles. Each label should contain information that identifies the chemical within the container along with all of it's hazard information. Using a service such as Online-SDS will provide you the ability to print your own labels on demand to keep your employees safe.
Information required on Labels include:
Identity of the Hazardous Chemical

Appropriate Hazard Warnings

Chemical Manufacturers Information

First Aid Measures

Chemical Ingredients
Recommendations for effective HAZCOM in the workplace:
Always know how to access SDS binders. Have online access credentials available to all employees working with hazardous substances.

Familiarize yourself with chemical hazards in your workplace.

An SDS must be available for every chemical used in the workplace.

Every container used to store a chemical must be properly labeled.

Always read the label and SDS before using the chemical.

Avoid skin and eye contact by using the proper PPE.

Store each chemical in accordance with the manufacturer's instructions.

DO NOT dispose of excess or waste in a drain or trash can.

Cleaning agents should never be mixed with one another, unless directed by the manufacturer.

When portioning chemicals into a separate container, proper labels must be used to identify the contents of the generic container. Information on the label must include the chemical name and a hazard warning that briefly describes the effects of the chemical.