Enforcement Guidance for Respiratory Protection and the N95 Respirator Shortage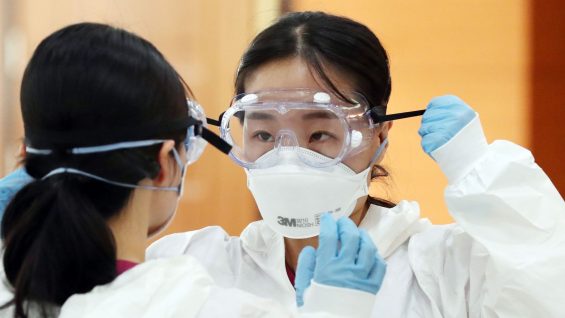 OSHA's memorandum, released on April 3rd, applies to all American workers who may be exposed to respiratory hazards in addition to healthcare personnel (HCP) on the front lines of the COVID-19 pandemic.
The memo comes on the heels of the memorandum on March 11th which allowed healthcare employers to briefly switch from a quantitative fit testing method to a qualitative testing method to preserve the integrity of N95 respirators.
The memorandum states, "All employers whose employees are required to use or are permitted voluntary use of respiratory protection must continue to manage their respiratory protection programs (RPPs) in accordance with the OSHA respirator standard, and should pay close attention to shortages of N95s during the COVID-19 pandemic."
Reusing and Extending use of PPE
OSHA is allowing extended use or reuse of respirators as long as the PPE "maintains structural and functional integrity and the filter material is not physically damaged, soiled, or contaminated".
All employers must revise their respiratory protection programs to include the circumstances under which the respirator is contaminated and not available for "extended use or reuse."
OSHA recommends the extended use of PPE over reuse due to the risk of contact transmission hazards and employers need to be aware of how workers are storing respirators between uses.
The memo also recommends increasing the use of wet methods or portable local exhaust systems or even moving tasks outdoors. If all of these conditions have been met and N95 respirator use is still required, the agency pointed to National Institute for Occupational Safety and Health's (NIOSH's) approved list of comparable respirators:
Before reuse or use of expired N95 respirators is permitted, employers must show they made a good-faith effort to obtain new N95 respirators or similar products. In addition, employers must keep track of inventory to ensure that products purchased are not mixed with expired respirators.
Healthcare Employer Guidelines
Measures for healthcare workers remains more stringent than that of the majority of employers that allow the use of expired N95 respirators.
Expired PPE should not be used by anyone who "perform surgical procedures on patients infected with, or potentially infected with, SARS-CoV-2, or perform or are present for procedures expected to generate aerosols or procedures where respiratory secretions are likely to be poorly controlled."
The Centers for Disease Control and Prevention (CDC) has stated that the use of N95 respirators needs to be prioritized by activity type.
OSHA Enforcement
OSHA also addressed compliance in its latest memorandum, saying it will practice discretion when issuing citations in violation or it 29 CFR § 1910.134(d) respiratory protection standard.
The agency noted the following causes for consideration:
The employer has made a good faith effort to obtain other alternative filtering facepiece respirators, reusable elastomeric respirators, or PAPRs appropriate to protect workers;
The employer has monitored their supply of N95s and prioritized their use according to CDC guidance.
Surgical masks and eye protection (e.g., face shields, goggles) were provided as an interim measure to protect against splashes and large droplets (note: surgical masks are not respirators and do not provide protection against aerosol-generating procedures); and
Other feasible measures, such as using partitions, restricting access, cohorting patients (healthcare), or using other engineering controls, work practices, or administrative controls that reduce the need for respiratory protection, were implemented to protect employees.
"Where the above efforts are absent and respiratory protection use is required, or voluntary use is permitted, and an employer fails to comply with fit testing, maintenance, care, and training requirements, cite the applicable provision(s) of 29 CFR § 1910.134 and/or other applicable expanded health standards as serious violations," OSHA concluded.
The complete enforcement memo is available on OSHA's website.