5 Things You Should Know About SDS Management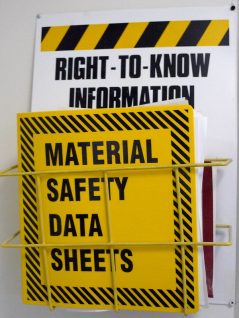 Safety data sheet (SDS) management has been part of industry for decades. On 2/16/2021, the Occupational Safety and Health Administration (OSHA) proposed updates. This aligns the U.S. with the United Nations' Globally Harmonized System (GHS) of Classification and Labelling of Chemicals.
The revisions will lower costs and burdens on businesses. They'll enhance the quality and consistency of information among management and staff.
Businesses that use hazardous materials need a trusted SDS management system. Keep reading to learn the key factors that you must have in place.
SDS Management
In the past, companies kept hard copies of SDS sheets in binders. Thus, someone had to continually update all binders with new or revised sheets. While the core requirements are the same, technology has optimized the process.
What do you need to do so that your data sheet management is compliant?
1. Access
Every employee who works with hazardous materials must have immediate access to SDSs. With online systems, workers must be able to physically get to and log in to the computer in their work area.
2. Back-Up Plan
If you're using a computer-based SDS system, develop backup plans. How can employees access SDS information in a power outage or other emergency?
3. Education
SDS sheets have 16 standardized sections. They describe the chemical, type of hazard, precautions, emergency response, and more. Every employee who works with hazardous chemicals must be taught how to access and read SDSs.
4. Communication
The ultimate purpose of SDS systems is communication. Keep detailed documentation of communication systems to optimize safety and show due diligence. This includes:
Prominent and accurate chemical hazard labels
Posting relevant safety signage
Establishing lines of communication to all at-risk workers
Designate a safety manager to oversee and enforce the standards.
5. Disposal
The SDS includes the proper method for disposing of hazardous materials. Ensure that workers have the knowledge and the tools to adhere to these standards. Failure to comply can lead to accidents and fines of $13,653 per violation.
Safety Data Sheet Management Software
KHA's Online-SDS™ software solution meets OSHA and GHS standards. You receive unlimited access to an extensive database of current SDSs. The company manages all updates as they occur.
The 35-field indexing lets workers quickly find the SDS they need. KHA also creates customized secondary labels sized to meet your needs.
KHA tracks the chemicals in your inventory. They flag all materials that require regulatory reports. This helps you meet all local, state, and federal standards.
Now you don't need to keep physical binders updated in all required locations. Put terminals within easy access for workers to provide ongoing current data. This streamlines processes, reduces costs, and increases safety.
Are You Looking for the Best SDS Management Solution?
If your staff works with hazardous materials, you must meet all regulatory standards. Choosing an SDS management software solution can give you peace of mind. KHA Solutions reduces risk, improves safety, and ensures compliance.
Today, thousands of companies rely on KHA for their safety program management. You'll have unlimited access to our online SDS library. Schedule a demo today to learn more about our solutions.