5 Benefits of Using Online SDS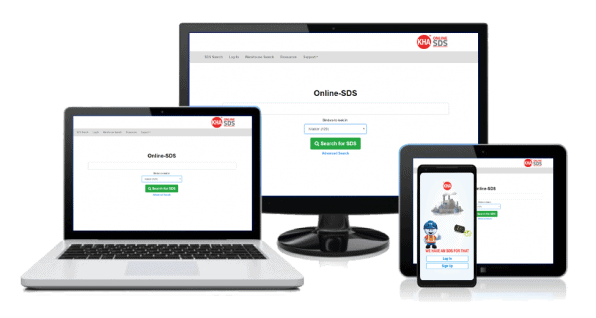 OSHA requires companies that use hazardous chemicals to have Safety Data Sheets (SDSs) for each substance they manufacture, distribute, or import. These documents must be available to customers, employees, and vendors. Their role is to ensure workplace safety and inform users about any potential dangers of the chemicals purchased.
Generally, SDSs have 16 sections that are recognized internationally. They must include the product's name, classification, composition, and other relevant data.
Online SDS management systems follow the same rules but have several advantages over paper documents. Reduced costs, increased safety, and multiple language options are just a few to mention.
Interested to find out more? Here's what you should know about SDS software programs and how they benefit your business!
The Role of Safety Data Sheets
Xylene, ethanol, and other chemicals are widely used in most industries. Ethyl acetate, for example, can be found in paints and even food products.
As you know, these substances can be toxic and may interact with other compounds. However, your customers may not be aware of their risks. The same goes for new employees and the vendors you're working with.
That's where safety data sheets come in handy.
These documents ensure legal compliance and may increase workplace safety. They follow a specific format based on international standards and must include specific information, such as:
Relevant identified uses
Chemical and physical properties
Potential hazards
Environmental precautions
Accidental release measures
Hazardous reactions
Bioaccumulative potential
Disposal methods
Chemical safety assessment
Sulfuric acid, for instance, is extremely corrosive and flammable. Direct exposure to this substance may cause eye and skin irritation, burns, and pulmonary edema.
An SDS must inform users about these hazards and describe the steps needed to deliver first aid. Moreover, it must provide handling and storage information, among other relevant details.
These records are regulated under OSHA's HazCom Standard in the U.S. The first eight sections include essential information about the product, as well as safe handling practices and first aid measures. The next three sections provide technical data, such as chemical properties and reactivity.
Sections 12 to 15 are not mandatory, but it's recommended to include them. The last section offers information about the latest changes made to the SDS.
As an employer, it's your responsibility to make sure your staff has unrestricted access to this data. With an online SDS system, they will be able to get the information they need when they need it. This can lead to greater productivity and efficiency, cost savings, and increased convenience.
Why Switch to an Online SDS Management System?
An online SDS management system can save you time and money while keeping your team safe. It also makes it easier to achieve regulatory compliance and avoid hefty fines.
Since the information is stored in digital format, users can access it anytime. Your employees can read it on their smartphones before heading to work or whenever they're not sure about how to do this or that.
Let's take a closer look at the five benefits of electronic SDS systems so you can make an informed decision!
1. SDS Software Can Free Up Employees' Time
Your employees have a lot on their plate. If they must return to their offices every time they need to look through an SDS binder, their productivity will decrease.
A good SDS software program can free up their time so they can focus on the tasks at hand. They will be able to find the information they need within seconds. Plus, they'll get the latest updates to the safety data sheets in real-time.
2. Store and Process Large Amounts of Data
Depending on your industry, you may be working with dozens or hundreds of chemicals and hazardous materials. Keeping track of everything can be difficult and time-consuming. Not to mention that paper documents take a lot of space.
Online SDS systems can handle large amounts of data. On top of that, these programs allow users to store, organize, and process information more efficiently.
As a business owner, your only job is to choose a quality system and designate a person to maintain it.
3. Keep Your Employees Safe
The best electronic SDS systems can make it easier for your staff to access critical safety data from any device.
Your drivers, for example, can log into the system while on the road to find out how to properly handle xylene. If a factory worker needs additional information about a product, he can access it instantly on his smartphone or tablet.
4. Deliver Better Customer Service
Traditionally, sales and marketing people don't have immediate access to safety data sheets. They must call the technical or manufacturing department, ask endless questions, or wait to receive the SDS by fax.
That's not the case with digital SDS systems. If customers ask your sales department about a product, your salesperson can access its SDS online and reply in seconds. This can help your business deliver better customer service and stand out from the competition.
The best online SDS systems have multiple language options, which can further improve the customer experience.
If you hire foreign employees, they can access the documents in their native language. As a result, they'll better understand the information provided and stay safe in the workplace.
5. Ease of Training
Reputable SDS management software providers, such as KHA, offer training to those who switch to their systems. Your employees will be able to use our software within minutes, leading to improved workplace safety and cost savings.
Safety data sheets don't have any value unless they are read and understood. When you purchase an online SDS system, you'll have peace of mind knowing that your staff gets the technical know-how required to use the software.
Switch to an Online SDS Management System Today
Online SDS systems can improve your company's bottom line and mitigate the risk of a lawsuit. Plus, they are convenient and easy to use. All you have to do is to choose one that meets your needs.
Don't wait until it's too late. Your competitors are already using digital SDS programs. Contact us today to book a demo and discuss your options!